Corporate Office
501 Commercial Court
Lake Geneva, WI 53147
Toll Free (800) 222-6265
Fax (262) 248-8927
Latest News
Martin Group Awarded 2014 Pro-Tech Service Award
Martin Group, a provider of quality office equipment in southern Wisconsin and northern Illinois for over 30 years, has been awarded a 2014 Pro-Tech Service Award by Konica Minolta Business Solutions U.S.A., Inc. more
New Hires, Promotions Keep Focus on Customer Service
We're growing and constantly upgrading so we can continue to provide the outstanding service that our valued clients deserve. We're ending 2013 with a number of changes to our valued Martin Group team! more
Martin Group recognizes that immediate support for desktop technical issues is a critical tool in keeping your business or organization running. Getting a technician on site the same-day may not be fast enough! To offer the fastest and most comprehensive support, Martin Group utilizes TeamViewer QuickSupport as a remote troubleshooting tool.
TeamViewer is an all-in-one software for remote technical support. With this simple tool, Martin Group may remote control any computer over the internet within seconds or use TeamViewer for online discussions/assessment. The platform is safe, secure, and in common use throughout the industry.
How To Connect Your Computer with TeamViewer QuickSupport

You know Martin Group's reliability for maintaining and servicing multi-function printers, desktop printers, and entire printer fleets. Get the same passion for service with our IT support. Need to sign up? Contact us to get the process started.


Download TeamViewer QuickSupport to start it. TeamViewer QuickSupport does not have to be "installed" like a traditional program and can be executed even without Windows administrator rights.
Need more information about TeamViewer QuickSupport? Please feel free to visit TeamViewer's install page for more information!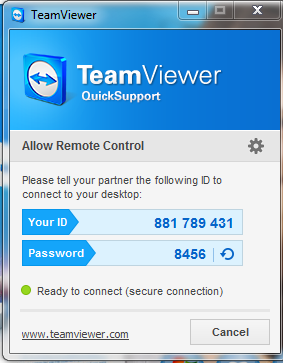 Martin Group's TeamViewer ID (see image on right). Enter it in the "Partner ID" field. Click on "Connect to partner" and enter the Martin Group's password in the next dialog to establish the connection.
Martin Group's ID: 881 789 431
Password: 8456
Have Questions or Concerns About Remote Technical Support?
If you would like to know more about our remote technical support features or options, please call us at (800) 222-6265 or fill out the form in the left column! We will be happy to answer questions or even schedule a demonstration.